Roller Hockey: Skills

And

Strategies For
Winning On Wheels
By Greg Siller
---
<![if !vml]>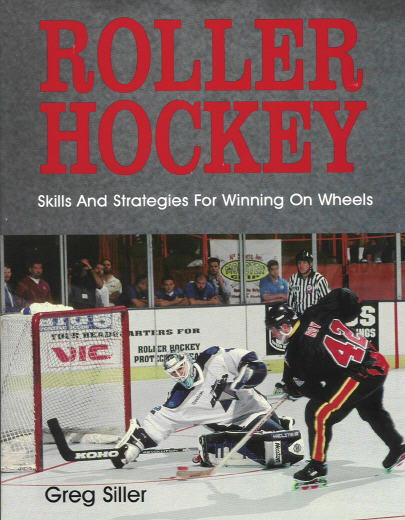 <![endif]>Here's what some of the most respected people in the roller hockey industry say about this book.

Every roller hockey player, parent, and coach should own this book. It's so far ahead of anything else that has been published on the sport; it's in a league by its own. Paul Chapey - Team USA World Roller Hockey Coach
The USAC/RS, as the Olympic National Governing Body and sponsor of amateur roller skating competitions for nearly 60 years, recommends this guide to roller hockey enthusiasts of all skill levels. Siller should be commended for the strategically effective, yet easy to follow style of his instructional guide. Everyone can learn a thing or two by taking a closer look. George H. Pickard - Executive Director - USAC/RS
This is far and away the most comprehensive and advanced roller hockey manual in publication. A must for players and coaches who aspire to reach the next competitive level. John Black - Head Coach/Director of Hockey Operations - Sacramento River Rats - RHI
The unique benefit of this book is that it can be used by beginner youth teams through those teams competing in the RHI. Concepts are well explained from basic strategy and practice situations through defensive, transition, and offensive zone play. Kelly Dyer - Professional Roller and Ice Hockey Goaltender
Greg Siller has done a great job providing a book that is very thorough and yet user friendly to coaches of all levels. This book provides excellent diagrams and key insights to help teach the necessary skills to develop players of all ages. Dan Brennan - USA Hockey Inline Programs Coordinator
Coaches, players, and parents alike will find that Greg has covered all of the key points in this tell-all roller hockey book. There are ideas in this book that even the pros will find beneficial. To sum it all up, it's a must to read and must to have! Dan Delaney - General Manager/Director of Player Personnel - Empire State Cobras - RHI; Professional Roller and Ice Hockey Scout
This book deals with all of the important aspects of how to win in roller hockey by stressing the A-B-C's of the most basic fundamentals. This book is a must read for all roller hockey coaches. Ralph Backstrom - Commissioner - Roller Hockey International

This 320 page book details all of the essential roller hockey information in 12 exciting chapters. Includes over 30 action photos, 100 informative figures, tables, and diagrams, and 350 fundamental and advanced drills and variations all intended to enhance the roller hockey learning process.

Whether you are a coach, player, or enthusiast, this book provides a comprehensive look at the exciting and evolutionary sport of roller hockey from the inside out. Roller Hockey: Skills And Strategies For Winning On Wheels delivers plenty of action packed information into this essential roller hockey instructional guide.

Greg Siller has over 25 years of ice and roller hockey experience gained throughout the United States and Canada. He is a roller hockey coach, official, and senior-level player in Southern California. Greg presents coaching and player development clinics and also writes for several roller and ice hockey magazines. Here's hoping that you will soon be Winning On Wheels!
---
Check Out What This Book Has To Offer......
---